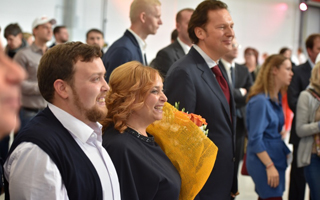 Company News
17 Февраля, 2016
Pobeda officially announced the factory opening in Latvia, Ventspils
Russian confectionery "Pobeda" officially announced the factory opening in Latvia, Ventspils. The ceremonial start of production took place on February 17, 2016. Pobeda is the first Russian confectionery starting production abroad. The Latvian branch factory – SIA Pobeda Confectionery – is a precedent for the Russian confectionery market. «Pobeda» - the only company in this segment, which has opened production in the EU.

"Starting production in Europe is a major strategic move for our business and a key milestone in the company's history. We are on a whole new level of cooperation with our partners. Factory in Ventspils offers new export opportunities; we plan to increase the volume of deliveries in Europe, United States, Mexico, Peru, Australia and China. In this difficult time for confectionery market, the plant in Latvia opens up new avenues for business development".
- Says "Pobeda" President Vitaly Muravev.

"We are proud of "Pobeda" in Ventspils. We have built a factory with the most modern equipment. This technology ensures the safety and quality of production and capacity to produce 30 tons of chocolate per day. At the first stage, we aim to produce about 10 000 tons of chocolate annually, 30% of which will be available at Latvia's home market, and the rest will be exported", - said General Director of the factory "Pobeda" Olga Muraveva.

"I thank Free Port and its director Imants Sarmulis, the Ventspils mayor Aivars Lembergs for support in the factory opening. We are excited with our efficient cooperation that will continue and strengthen the trustworthy relationship. Ventspils is a second home for us. From the first days of our stay here, we have felt very comfortable to work on the factory opening", - said the co-owner of confectionery factory "Pobeda» and chairman of the board of directors of the factory in Ventspils Andrei Muravev.

Confectionery "Pobeda" is fast-growing and financially stable company with a 100% equity. It is one of the biggest confectioneries in Russia, famous for excellent taste and quality of its products. The total area of industrial buildings is 43, 000 square meter. Factory is equipped with 28 modern production lines. The production capacity of the plants on Russian territory is 220 tons per day.

2016.gada 17.februārī Ventspils brīvostas industriālajā teritorijā Krievijas konditorejas fabrika «Pobeda» oficiāli atklāja savu ražotni Latvijā. Jaunajā fabrikā pirmajā gadā tiks saražotas 10 tūkstoši tonnas šokolādes, no kurām trešā daļa tiks pārdota Latvijas veikalos. Līdz ar Latvijas filiāles SIA «Pobeda Confectionery» nodibināšanu, «Pobeda» kļuvusi par vienīgo Krievijas kompāniju savā segmentā, kas atvērusi ražotni Eiropas Savienības dalībvalstī.

«Ražošana Eiropā ir nopietns mūsu biznesa stratēģisks solis un pavērsiena punkts kompānijas vēsturē. Mēs ieejam absolūti jaunā sadarbības līmenī ar mūsu partneriem. Fabrika Ventspilī ir jaunas eksporta iespējas. Mēs plānojam palielināt piegāžu apjomu uz Eiropas valstīm, ASV, Meksiku, Peru, Kanādu, Austrāliju, Ķīnu, un konditorejas tirgum grūtos laikos Latvijas rūpnīca mums paver jaunus ceļus biznesa attīstībai,» uzsver kompānijas «Pobeda» prezidents Vitālijs Muravjovs.

«Mēs jau tagad lepojamies ar mūs «Pobeda» Ventspilī. No brīvostas iznomātajā ēkā mēs uzbūvējām fabriku un aprīkojām to ar vismūsdienīgākajām iekārtām, kas dienā spēj saražot 30 tonnas šokolādes. Jaunākās tehnoloģijas gādās par ražošanas kvalitāti un drošību. Pirmajā darbības posmā plānojam gadā saražot ap 10 tūkstošiem tonnu šokolādes, no kurām 30% tiks realizēti Latvijas tirgū, bet pārējie eksportēti,» stāsta fabrikas «Pobeda» ģenerāldirektore Olga Muravjova.

«Pateicamies par atbalstu fabrikas atklāšanā Ventspils brīvostai, tās direktoram Imantam Sarmulim un Ventspils mēram Aivaram Lembergam personīgi. Mēs priecājamies par auglīgo sadarbību un turpināsim stiprināt uzticības pilnas attiecības. Ventspils tagad ir mūsu otrās mājas. Jau no pirmajām dienām šeit mums bija ērti strādāt pie fabrikas iekārtošanas,» saka «Pobeda» līdzīpašnieks un Ventspils filiāles direktoru padomes priekšsēdētājs Andrejs Muravjovs.

Konditorejas fabrika «Pobeda» ir ātri augoša un finansiāli stabila kompānija ar 100% pašu kapitālu. Šodien tā ir viena no lielākajām konditorijas fabrikām Krievijā, un izpelnījusies atzinību par lielisku produkcijas garšu un kvalitāti. Visu fabriku kopējā platība ir 43 tūkstoši kvadrātmetru un tās aprīkotas ar 28 mūsdienīgām ražošanas līnijām. Ražošanas jauda Krievijā esošajās fabrikās – 220 tonnas diennaktī.